Description:
This shark cartilage powder is obtained from catshark skeletons.
Species: Scyliorhinus canicula
Origin: fished off the coasts of Normandy and Brittany.
Use: human nutrition
Ingredients:
100% shark cartilage powder.
Substances of interest:
Collagenous proteins (æN*5,46): ≥ 20 %
Chondroitin sulphate: 4% (+/- 1) Glycosaminoglycans (= Mucopolysaccharides): 5% (+/- 2)
Glucosamine sulfate : 2,5% (+/- 1)
Calcium : ≥ 20 %
Phosphorus: ≥ 10%
Physicochemical properties:
Appearance: fine, non-granular, 300 µm
Colour: white
Odour: neutral
Dry material: ≥ 90%
pH (aqueous solution 10%): 6.5 to 7
Storage conditions:
We recommend you store this produce in the following conditions:
in a dry place
away from light
at a temperature below 20 °C
In these conditions, the minimum shelf life is 24 months. However, this storage time should be modified depending on the storage conditions.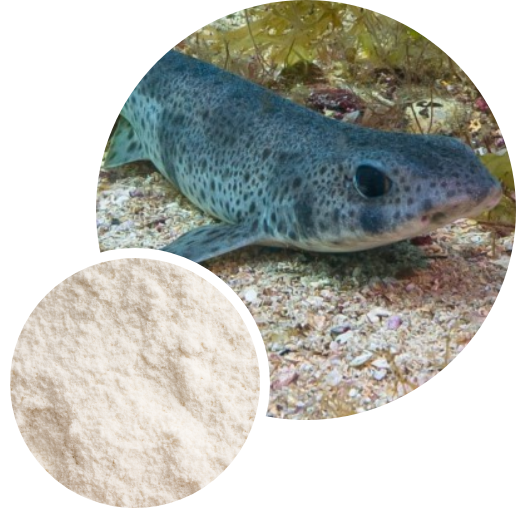 This product datasheet has been drawn up with the greatest care. However, the information provided is only approximate. For further information please contact our sales team.
https://www.phosphotech.com/wp-content