Cod liver oil softgel capsules 500 mg
Cod Liver Oil Capsule 500,7 mg – Fish Gelatin
Description:
Capsules of cod liver oil.
Species: Gadus Callarias L.
Origin: Fished in the North Atlantic.
Use: Human nutrition
Substances of interest:
EPA (eicosapentaenoic acid): ≥ 35 mg / capsule
DHA (docosahexaenoic acid): ≥ 30 mg DHA / capsule
Vitamin A: ≥ 150 µg RE / capsule
Vitamin D: ≥ 1.25 µg vit D / capsule
Natural Vitamin E 67% (d-α tocopherol) : 0.469 mg vitamin E / capsule
Physicochemical properties:
Format: oval soft gelatin capsule 10 minimum
Color: natural
Weight of contents: 500.7 mg
Weight of the capsule: 700.7 mg
Storage conditions:
We recommend you store this produce in the following conditions:
in a dry place
away from light
at a temperature below 20 °C
In these conditions, the minimum shelf life is 24 months. However, this storage time should be modified depending on the storage conditions.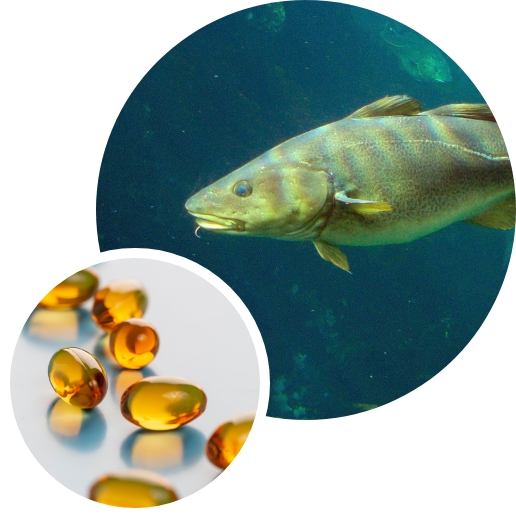 This product datasheet has been drawn up with the greatest care. However, the information provided is only approximate. For further information please contact our sales team.
https://www.phosphotech.com/wp-content